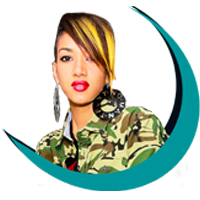 Nyanda from musical duo Brick & Lace has been appointed Ambassador for The Reach A Hand Uganda (RAHU) campaign to address the key issues that leave Ugandan youth vulnerable to health outcomes like, HIV, Sexual Transmittable Infections (STIs), and unintended pregnancy.
The Official RAHU Theme song, YOUR WAYS, features Nyanda & African stars GNL, Ray, Irene Ntale, Big Tril and Maurice Hasa. The song advocate's for safe sex in addition to helping young people make informed choices in life.
 "I'm honored to be a part of this great movement. People need to be reminded that AIDS still exists and many are still dying from it. We all do this for the love of the music but when you get the opportunity to make a difference and touch hearts, you become purposeful, that's what's this all means to me"  Nyanda.