Gilbert igabe is a self taught digital illustrator, currently doing a Multimedia course at Aptech Uganda.He was born in Rwanda,raised in Kenya and is currently staying in Uganda.He is honoured to have been part of a team of creative young people that run an awesome event called Asylum, a digital arts event aimed at giving light to and appreciating the growth of digital arts(2D 3D animation, vector drawing, comics & digital painting) and artists in Uganda . 
He has done some digital work for two American NGO's, Mothers Against Police Brutality and Mothers Act for Criminal Justice Reforms. I've also done work for an American hip hop music duo called Negroes Americanos, based in New Jersey.
Connect with Gilbert: Facebook 

| Deviantart
So, who is Gilbert Igabe?
Gilbert igabe is a self taught digital illustrator, a student at Aptech Uganda studying multimedia,very Social, Loves kids,loves people and sober.
Tell us about your journey in the art field?
It began at a young age around 12, I loved cartoons especially action cartoons like transformers, batman,  superman & super strikas. I could try and draw them on paper and with this consistent repetition I perfected my sketching, later on  I discovered digital art/ painting using photoshop tools. It was difficult at first since i had acquaint with the elctronic environment and this took me a year to really get a hang of it since i didn't have any tutotials.
Who were your mentors and your icons in your field?
Honestly, I didn't have any clear mentors,i mainly drew inspiration from random art I saw on internet or from the cartoons I watched but mostly paintings. I additionally wanted to bring my pencil art to life and give it color this is because real paints were expensive and I didn't have time for them. Discovering photoshop was the best thing ever.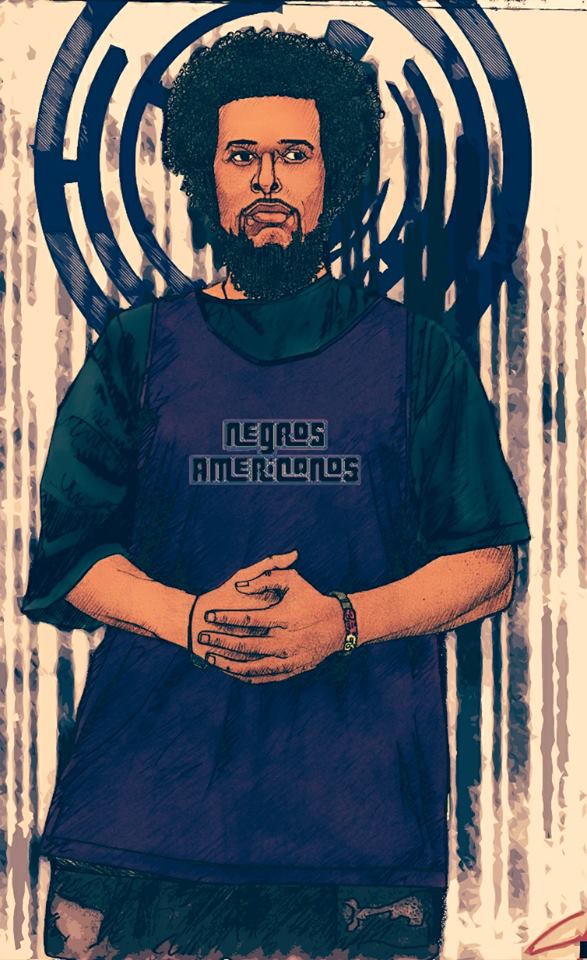 CLICK HERE TO CHECK OUT MORE OF HIS WORK
What challenges did you or do you face in your field?
Challenges, well, I think it's the low appreciation for art locally, especially, few make commissions and the few who do not take digital artist's serious. When it comes to payment, its unprofessional.
Tell more about successes
Success. well, most of the commissions i've got so far are from out the country, majorly from the states. I have done work for two American NGO'S, Mothers against police brutality and Mothers act for criminal justice reforms. I've also done work for Negroes Americanos, a hip hop music duo( Mc enigma lyle and Bishop nappyhead) based in New jersey. And a few other growing soulful musicians believing for greater art and music collaborations.
What's your perception of life?
God first, faith, trust, work hard and great things will happen definitely.
How can you rate the level of art appreciation and remuneration in Uganda?
To a range of 1 to 10, especially with digital art, at 3. Very few people have actual digital pieces hanging up in their houses or offices.
What do you think should be done to make your profession more profitable and more appreciated?
Its all about how much the digital artists market themselves, it takes time and growth takes time. Like right now, I have been part of a team running a Digital art event called Asylum started by a friend called Gabriel mundaka and it's the first of its kind event happening in Uganda, its running for the fourth time in May this year. It's a great way to expose more people to Digital Arts and It's a really cool art form, neat and wide capturing.
Many of Societal problems are due to bad or poor leadership, what do you think should be done to uplift better leaders?
Most people in leadership do not know what being a leader is. What we should know is, Leadership is taught and we have institutions that teach leadership. There should also be systems which hold leaders accountable so as make sure they do what they are called to do.
Where do you envision yourself in five years?
I hope to have my own digital art gallery, clean/bright, neat and classy.Additionally getting serious digital art commissions deals from big companies or individuals. 
Any final remarks?
 I would like to thank the one question network for the interview, i'm really honoured. My parting short is a famous art quote, that always encourages me when im working on a new art piece.
"The beginning is the most important part of the work." Plato