Dafari is a kenyan based Christian Dancehall artiste who has been in ministry for over eight years ,he is a CEO and music/video producer of K-Clip Media .He has worked with a host of artsites like Suz eye,levixone and many others,he is also famous for the prophetic song he sang for Uganda.Well, get to know more about him from this captivating interview.
Connect with Dafari: Facebook  | Twitter | Reverbnation
There are so many gospel artistes in Africa and the world over, what should a Gospel artiste do to become and remain successful?
The Bible says in Matthew 22:14 for many are called but few are chosen, why are they called? In the book of Matthew 9:37 JESUS said to his disciples, ''the harvest is plentiful but the workers are few''. That's why we see too many Gospel artistes in the world, but very few successful artistes. You see, success in the kingdom of God is not the earthly things that mankind defines as success, Now success is accomplishment of a certain duty. We as Christians have only one duty i.e. Mark 16:15 to take the good news to every living creature all over the world, in simple English, Is to get as many people to accept JESUS CHRIST as their personal savior. Now tell me how many Gospel Artistes in the whole world are successful? That's it, if we GOSPEL ARTISTES want to be successful; we must put THE GOSPEL before THE ARTISTE that's why we are called GOSPEL ARTISTES.
There's a general confusion between two names that sound familiar , "JAH" & "JEHOVA" ,can you help and give us your description of both terms and can a Christian be a "Rasta" ?
Hehehehe, JAH is commonly used by Rastafarians; I think that's where the confusion comes in. Here is the fact, JAH means GOD and it's a short form of the name JEHOVA. It's found in the Bible, Psalms 68:4. Rastafarians use the name to refer to their God, JAH RASTAFARI or HAILESALASIE. If anyone uses the name JAH, Its good for them to define which God they are referring to.
When your journey in music started what challenges did you face and what milestones have you realized?
It wasn't easy, it has been 8 long years and I can tell you that it's not easy even now. Getting the resources to start off was a straggle, Getting the right people to mentor and speak over my life was not easy. But I thank God for the far He has brought me, I have toured around and seen a great number on non believers' accept JESUS CHRIST as their personal  savior. I don't count my international exposure as success, I count the many live I have led to CHRIST as my success under my music ministry.
Tell us more about your "Dafari 100%" Album and what is the main inspiration behind it?
This is my 8th year in ministry and the 100% album defines my journey very well. Revelation 3:16 The Bible records a very strong statement from GOD Himself, ''SO, BECAUSE YOU ARE LIKEWARM-NEITHER HOT NOR COLD-I AM ABOUT TO SPIT YOU OUT OF MY MOUTH. That's the clear message behind the 100% album, God requires 100% and not 50% or any less like most Christians do with their lives. So when I got signed to a U.K Record Label ''RIDDIM CULTURE'' I felt that it was now time to speak of this in a more professional sound with a blend of Afro Beats, Reggae and Oldskool dancehall sound and there you go, the 100% album was birthed.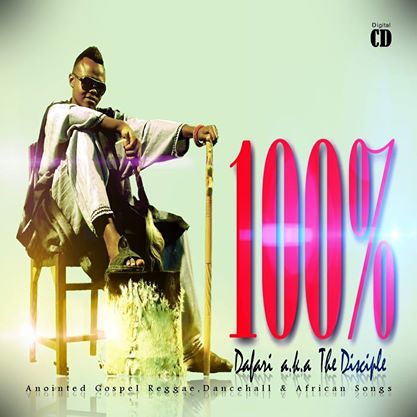 There's a trend of Gospel artistes using secular beats and singing gospel music over them and even making Christian remixes(Cross overs) to secular songs , is this right , what's your take?
I will say this; the devil doesn't have the ability to create anything, 1 Corinthians 11:26 for,            ''The Earth is the Lord's, and EVERYTHING in it.'' That just says it all, EVERYTHING includes the beats but, not all can qualify to give praises to God, the heart of the artiste who uses the beats defines whether the sacrifice if praise will be acceptable in the sight of GOD. That's why Canes sacrifice was rejected, His heart was not right.
CLICK HERE TO LISTEN TO THE SONG
How do you prepare to go on stage or before you perform live?
I soak myself in prayer/speaking in tongues coz on stage, it's a battle field that's why I pick up the full Armor of God Ephesians 6:10-18 for battle against principalities and powers of darkness.
How did you close off the year 2013 and what should we expect from you this year 2014?
I closed 2013 on stage at the Groove Party and my prayer is for God to order my steps in 2014 coz the steps of a righteous man are ordered by the LORD. So in 2014 expect the best of CHRIST in me.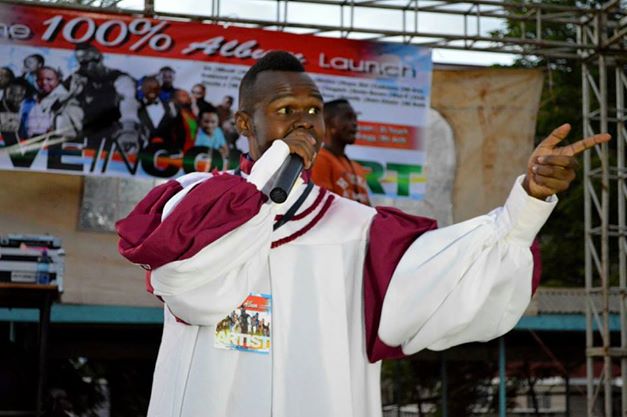 What other income generating activities do you do apart from music?
I am the CEO of a recording company called K-CLIP MEDIA, I am a music/video producer as well.
Tell us more about the prophetic song you sang for Uganda?
Uganda is referred to as the pearl of Africa. Pearl means something precious that's why I had to prophecy over it in a song, If Uganda lets God mine and bring out it's precious value, then the world will now see miracles, signs and wonders from servants of God that He will raise up from Uganda. 2 Timothy 2:20-21 in a large house there are articles not only of Gold and silver, but also of wood and clay; some are for noble purposes and some for ignoble.  if a man cleanses himself from the letter, he will be an instrument for noble purposes, made holy, useful to the Master and prepared to do any good work.
How would you like to be remembered?
As a servant of The Most High God.
---
We would love to here from you,drop us all your comments and inquiries via [email protected] , request for an interview ([email protected]) or advertise with us, send your inquiry to [email protected] and we will get back to instantly.

Connect with us : Facebook | Twitter