Wow! what a beautiful stage! It's huge enough to accommodate two performances at ago…! This is what came to my mind when I first saw the stage for Levixone's Charity Concert, aimed at raising funds to build a primary school in Karamoja. The stage was beautiful enough to host the most respected person in the world, after God. The gates opened at 3pm (EAT) but people were already at the grounds before that, ready to have fun.
Levixone's Charity Concert, aimed at raising funds to build a primary school in Karamoja.
The event was supposed to start at 4pm but it started later than expected. I inquired why the event didn't start at the appointed time and was told it was because of a technical issue. One of the cables/wires had been disconnected and they didn't know where it got disconnected from so the technical team had to start checking each and every cable to identify the disconnected one which took almost or more than an hour. This delayed Levixone's sound check and he ended up doing it at 6pm and the event started at 6:30pm.
Due to the fact that the program started late, the program got rushed which kind of took the crowd by surprise and left them a little unsatisfied with the short performances of most of the artists (especially the upcoming artists who were given maximum 3minutes each on stage.) At Least the established artists were given enough time each to perform a full track. I hereby appreciate the crew for considering and giving the up and coming artists an opportunity to showcase their talent because they are the next big thing and also equally needed to be given a chance.
Some of the up and coming artists were from Levixone Music (a mentorship club for up coming artists led by Levixone). Some of these were Kevolex, Mr Yeba, Glosh (the girl that sung the Ani by Levixone cover, among others. They were all vocally talented but, most of them are all trying to sing like or sound like Levixone which to me, I would say that they have not yet met their mark of originality. (I don't know if am the only one who thinks like this.)
Many other local Ugandan artists also graced the event. Jackie Senyonjo, Pr Brian Lubega, Fortune Spice, Robinsan, Isaac Rucci of Limit X, Coopy BLY and many more. What put a smile on my face was the fact that almost all the Kenyan artists that were supposed to grace the event showed up apart from Bahati whose reason for not showing up is still unknown. Kris Erroh, Alemba the Hype Man, Hope Kid, MC Abel and DJ MO showed up. They took on the stage after Levixone's first segment. Uganda's King Wesley (The King of Radio) joined Kenya's MC Abel on the Mic as DJ MO thrilled the crowd on the ones and twos.
The hype session was led by Alemba as DJ MO played hits like "I know who I am" by Sinach, Kiss Teeth by Papa San among others which got the crowd grooving in every direction. Kris Erroh, the Kenyan artist that Ugandans refer to as a Ugandan from Kenya also got on the stage, performed more songs and the crowd just couldn't help but scream at the top of their voices like little girls 😂😂. His energy is so epic that seating while others are dancing is only cheating yourself.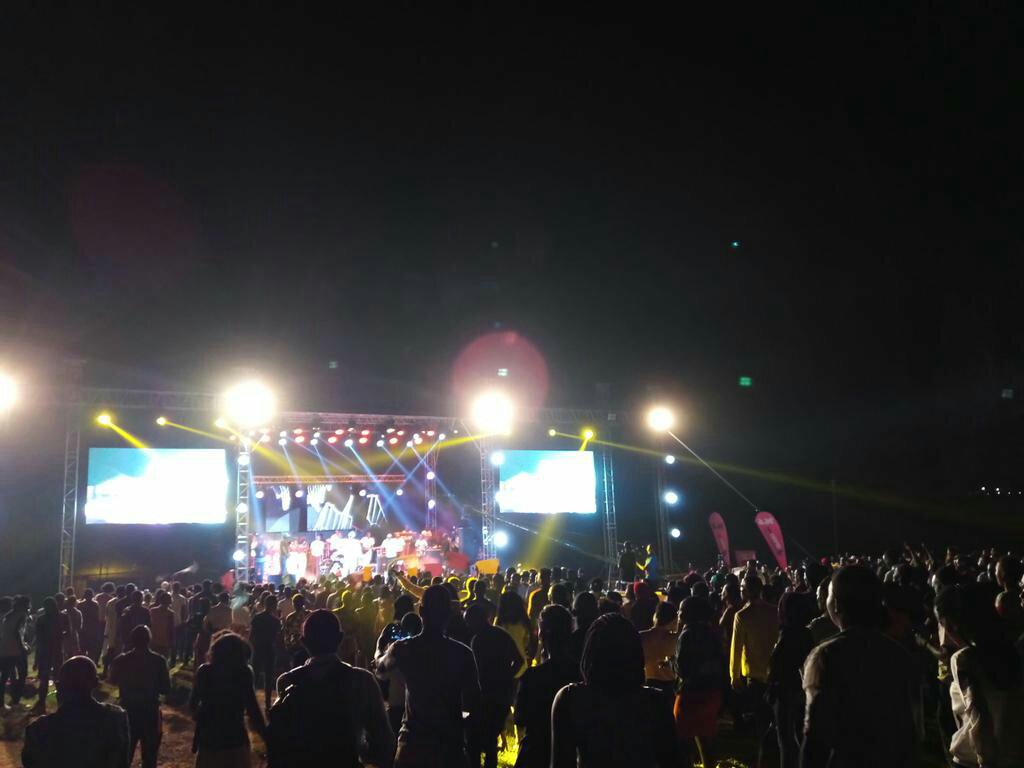 Levixone segmented his performance into two, backed by the Levixone band with smartly dressed ladies and gentlemen. They all had rich vocals with a lively look on stage. Levixone never disappointed fashion wise in both segments and yes, his performance was to die for! I almost thought Daisy was on the stage singing Shuga (a collaboration with Levixone) but it was a new talented lady from Levixone's label. Daisy Ejang was unfortunately out of the country then. The audience was unanimously engaged which gives the fans a sense of belonging and knowing how special they are to Levixone the artist. But why did Levixone not perform his new single "Turn The Replay? " 😢😢 I was all eagerly waiting to dance with my friends… Anyway, maybe the time didn't allow.
At exactly 11:30pm, the event was officially ended with live DJ mixes by DJ Awar and we all saw ourselves out after taking selfies with the King of the night, Levixone. Special appreciation to all the people, sponsors and everyone that did anything to shower Karamoja with love. May God bless you extra large.